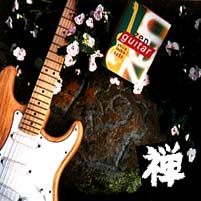 Available now on CD or cassette

Fifty minutes of driving, electric music for large attention spans
"Music for a marathon" -- P.T.S.
Featuring live and studio versions of the "One Sound One Song" themes, and a trip into the void of the Beatles' classic zen statement, "Tomorrow Never Knows."
Song Titles:
Raise the Spirit*
New Mantra Jam*
Tomorrow Never Knows
Avalanche
Sudo Family Hoedown
Naive Melody*
Finger Pointing to the Moon*
Slog
Ascender*
Steamrollercoaster*
Rock Garden Rain*
* denotes a recording of the "One Sound One Song" themes as described in the Zen Guitar Method

To hear audio excerpts of "One Sound One Song" and/or buy the record directly via the Internet, visit the music retailer Guitar Nine Records.

Or send $12.95 for CD / $8.95 for cassette to:

The Zen Guitar Dojo
P.O. Box 385278
Minneapolis, MN 55438
USA
Make checks or money orders payable to: Zen Guitar

Add $3 for shipping and handling.
(If you are ordering a t-shirt at the same time, there is only one $3 shipping and handling charge for the total order.)


---